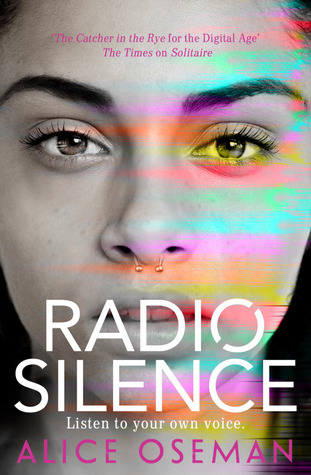 Radio Silence by Alice Oseman tells the story of Frances Janvier, a 17-year-old A-Level student aiming to get into Cambridge University. Everything she does is in aid of this goal, but her constant studying prevents her from having hobbies, bonding with her school friends, and being her true self. This begins to change when she makes friends with Aled Last, another top-of-the-class student with high aspirations, and discovers that he is the anonymous Creator of her favourite podcast. Frances' friendship with Aled helps Frances gain confidence and have a life outside of academia, but they run into problems when Aled leaves for university.
One of the main themes of this book is friendship, which is something I really enjoyed about it. There are so many books that focus on romantic subplots  – which often feel forced and predictable – that it was really refreshing to read a book with more focus on platonic relationships. I actually feel that the relationships were stronger, were written better, and felt more natural because of this. I found that reading a relationship that felt as genuine as this one was very rewarding and made me want to root for it far more than if it were simply based on sexual tension, as many fictional romantic relationships unfortunately seem to be.
I also found the characters to be very believable and relatable, which made them very easy to connect with. Another great thing about the characters is their diversity: a number of races and sexualities are represented in this book. Frances, for example, is British-Ethiopian and bisexual. This diversity is something else I found refreshing; it helps differentiate the characters, making them more realistic and more vivid.
Oseman's writing style makes it really easy to get to know Frances; it is rather honest and matter-of-fact, even as Frances discusses her uncertainties and insecurities. This gives Frances a distinctive voice and also gives us insight to some of her deeper, darker thoughts without seeming out-of-character or overdramatic. Together, the frank, uncomplicated writing style, the well-written characters, and the believable relationships made this book seamlessly easy to read and enjoy for me.
The book also deals a lot with the topics of university, education, and the future. This was another thing I felt to be very realistic: the majority of the characters are aged 17 and 18, so it is only natural that they are all questioning what to do after school – as well as questioning things about themselves. I found that this book captured the feeling of uncertainty at this age really well, and it really resonated with me as a young person who only a few years ago was asking the same questions (and is still asking some of them now).
Overall, this book was a joy to read and I really loved it. A lot of it is pretty lighthearted, though there are some darker points too. I would recommend it for people in their late teens and early twenties, and people looking for a book with very little romance. But since I enjoyed it so much I'd probably recommend it to everyone else too! 🙂