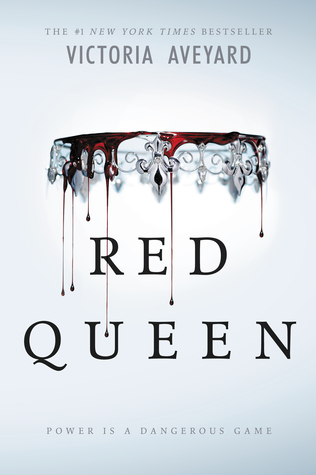 Red Queen by Victoria Aveyard is a book I've had on my to-read list for quite some time. Set in a kingdom called Norta, where people with silver blood and supernatural powers rule over people with red blood, Red Queen is the first in a series of four books. The story centres on sixteen-year-old Mare, a seventeen-year-old Red from a poverty-stricken village who is doomed for conscription into a war she is sure to die in until she makes a very public discovery that she has a power much like those the Silvers possess. Unable to ignore the scandal Mare has caused, the Silver royalty decide to take her in and claim she is a long-lost Silver to cover up what they can't explain. From within the Silver court, Mare has the perfect opportunity to take down the Silvers from the inside and get the Reds the equality they deserve.
When I picked up Red Queen, I was very much expecting a high fantasy – perhaps something similar to A Game Of Thrones, though with less characters. So what I found surprised me. Despite being part of a fantasy universe, Norta has all the technologies of the modern day, including guns, television, electric lights, and security cameras. This gave the book more of a dystopian feel, which is certainly not what I was expecting, and it wasn't really what I'd been wanting either. Nonetheless, I tried not to let my personal tastes get in the way of my judgement of the book. After all, I would say it makes Red Queen a little more unique, with a world similar to that of The Hunger Games, but with the Silvers' abilities bringing more of a fantasy element to it. So if that's the sort of thing you're looking for, definitely give Red Queen a go.
As for the rest of the book, I found myself a little bored at times, and had to force myself to continue reading it. I didn't find Mare to be particularly likable and if you asked me to describe her personality, I'm not sure I could, at least not without thinking about it quite hard first. But maybe that's just because I wasn't paying close enough attention. Unfortunately, my disconnect with the narrator and protagonist wasn't an isolated issue; it meant that, in places where Aveyard built up suspense, I just didn't feel it because I didn't care about Mare and her situation enough. I didn't feel immersed in her world. Also, I found it a little too political for my personal tastes: there's terrorism, war, manipulative royals, detailed plots… It's quite a serious book (and slow in parts), but at least that means that nothing is romanticised. And speaking of romance, I at first found this subplot to be quite annoying because it seemed so predictable…
Except it didn't turn out to be predictable at all. In fact, by the end of the book I really liked how the romantic subplot seemed to be turning out (obviously, this arc is not finished; I imagine it will take many more twists and turns throughout the rest of the series).
And I'm very pleased to say that the other plotlines improved towards the end of the book too. By the last hundred or so pages, I was finally hooked; I finally cared about the characters and what happened to them. The suspense also increased hugely and, though I don't want to spoil anything for anyone, get ready for some major plot twists. Do not expect to see any of them coming.
In the end, I'd say that most of my problems with Red Queen are down only to personal preference: it's a good book, and I feel bad publicly discussing the bits I didn't like about it. But those last hundred or so pages made the last few weeks I've spent reading this book truly worth it, and I'll definitely be picking up both the sequel and the prequel (which actually sounds more to my taste than the original). I would highly recommend Red Queen to anyone looking for something similar to The Hunger Games, but if a high fantasy is what comes to mind when you read the blurb, I'd suggest trying a different book instead.